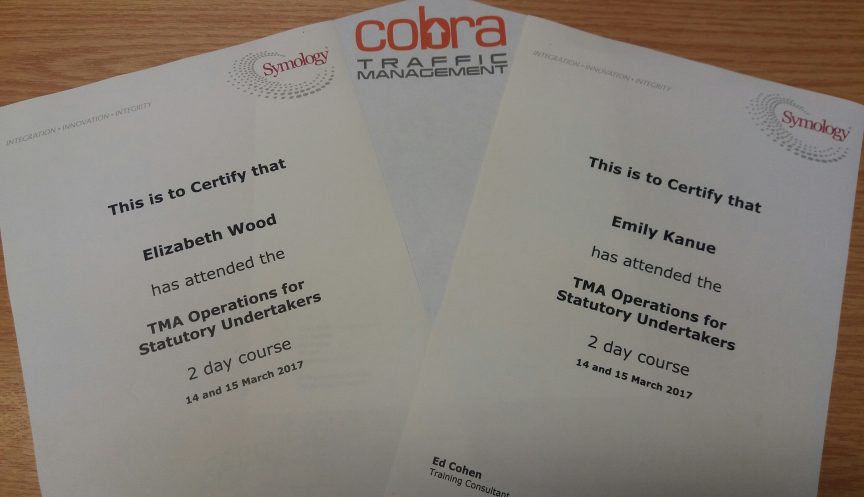 Cobra Traffic Management is thrilled to announce that two of our experienced Project Coordinators have furthered their knowledge by achieving the ''TMA Operations for statutory Undertakers'' Certificate last Month.
Elizabeth Wood and Emily Kanue attended the two day Symology Course in Luton on 14th and 15th March 2017. They now are part of a dedicated team of Coordinators at Cobra, who already hold this qualification.
This qualification enables them to use Symology to complete the Electronic Transfer of Notifications (ETON) on behalf of our Clients working for statutory undertakers. The Notice informs Councils of works taking place within their area. It is an extremely important tool in ensuring that works on and off the councils Highway is compliant within their specific demands and that works are completed safely and efficiently.
Electronic Noticing is a legal requirement for any statutory undertaker and is a vital part of working on behalf of Utilities.
Increasing our qualified members of staff within this field will help to further improve our already acclaimed service we supply to a number of our clients, on time, each day.
Well done Elizabeth and Emily.
If you require any assistance with your Electronic Transfer of Notifications or Symology please contact one of our dedicated coordinators today on 0844 41 41 444 or email contact@cobratm.co.uk.